Bucs Expect Revis In Pads On Day 1 Of Camp
June 8th, 2013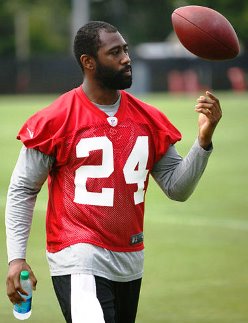 A newly sheared Bucs rock star general manager Mark Dominik joined "Total Access" last night and dropped big news on NFL Network.
Dominik said he is "fully confident" Darrelle Revis, rehabbing from reconstructive surgery on his torn ACL, will be practicing on Day 1 of training camp in full pads.
"He's in great shape right now," Dominik said of Revis. "He's running full speed, he's cutting, he's doing all the things we'd want him to do from a training standpoint, a rehabilitation standpoint.

"We're going to keep him at our pace, but the whole point is that he'll walk out to the first day of training camp, he'll have the pads on and he'll be ready hopefully for the Jets Week 1. We're expecting that."
It's great the Revis has progressed so far so fast. If Revis is ready to go full tilt for training camp, that's a very, very good sign.
Dominik's complete interview is included in a video embedded in the link above.