Dashon Goldson No. 18
June 27th, 2013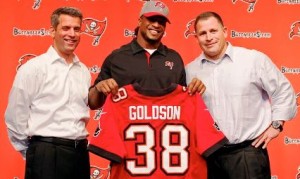 While many Bucs fans were pacing their bedrooms in the middle of the night, bottle of antacid in hand and worried about the horrid Bucs secondary from the previous year, Bucs rock star general manager Mark Dominik was doing something about it, unbeknownst to the public.
One remedy was signing punishing free agent safety Dashon Goldson. In this countdown of the top 25 players in the NFC South, ESPN NFC South blogger Pat Yasinskas lists Goldson at No. 18, before the man has played a snap in the division.
What he did in 2012: In helping the San Francisco 49ers reach the Super Bowl, Goldson had 69 tackles, three interceptions and a forced fumble.

Why he's No. 18 in 2013: Signing Goldson was the first big move the Bucs made in the offseason because they believe he can help fix a pass defense that ranked No. 32 in the league in 2012. Last season, the Bucs used Ronde Barber at free safety. Barber did a decent job, but often played in the box and that forced strong safety Mark Barron to end up in coverage more than the team wanted. Goldson is more of a natural center fielder and his presence should free up Barron from deep coverage duties and allow him to take more advantage of his physical style of play. Goldson also is known as a leader and he's been on some teams that have won big. The Bucs are hoping Goldson's ability and experience can help improve the entire defense.
Joe believes Yasinskas nailed it in his last point: Leadership. Joe has seen with his own eyes how the younger members of the Bucs' secondary are following Goldson around like ducklings would their mother. He works with the young guys sometimes 30 minutes after practice. Not that he's told to do it, but he knows the work necessary to hone your craft and build a winner.
Goldson has lived the life of playing on a putrid team that transformed itself into a Super Bowl team. Just judging by his leadership skills, Goldson's salary is already beginning to pay off, and it's not yet July.