Can't Lose Him!
June 29th, 2013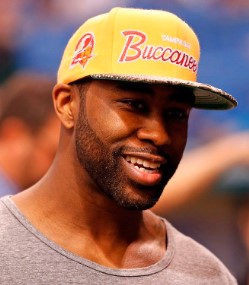 Many Bucs players are invaluable to the team's success this season. Joe can think of Gerald McCoy, Doug Martin and Vincent Jackson, just off the top of his head.
But Matt Williamson thinks differently. The BSPN football guru believes the most important Bucs player is a guy who has yet to take a snap for the team, and it's not a lock that he will be able to take a snap when the Bucs play the Jets in Gotham City.
That would be cornerback Darrelle Revis.
The Buccaneers' pass defense was far too generous in 2012. The pass rush was a problem, and that area still very much concerns me. But the cover men also were huge liabilities. That should not be the case anymore. Not only did Tampa Bay bring in the best cover man of this generation in Revis, but it also signed Dashon Goldson to pair with last year's first-round pick, Mark Barron, at safety and drafted Johnthan Banks, who should compete for a starting spot opposite Revis. But it is Revis the Bucs need to count on. As he showed so many times with the Jets, Revis is capable of eliminating an opponent's best receiver by himself, which essentially would allow the Buccaneers to play 10 versus 10 against the opposing offense. The ripple effect would allow Tampa Bay to blitz with more regularity, which clearly helps its suspect pass rush. That is, of course, if Revis is healthy. Hopefully for Tampa Bay's sake, it doesn't have to find out how indispensable Revis is before he even gets the chance to contribute.
Williamson makes a good point about Revis, if only because the Bucs are constructing their 2013 defense around Revis. With him healthy, the Bucs can shade their safeties to help out either rookie Johnthan Banks or veteran Eric Wright. Without Revis, Banks/Wright will be left to sink or swim on their own.
If the Bucs lose GMC, the team is in a world of hurt. Same goes for Martin. Losing Revis could be a return to the heinous pass defense of last season.