Will Vincent Jackson Improve Darrelle Revis?
May 23rd, 2013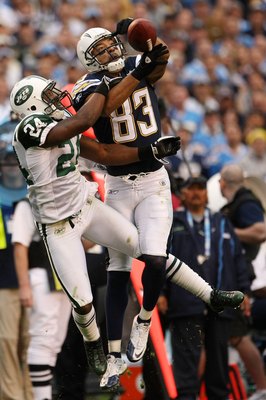 Fishing for Bucs-related news and nuggets, Joe listened to a recent podcast of a Brent Grimes interview out of Miami today.
Grimes, the former Falcons cornerback now with the Dolphins, was rumored to have been on the Bucs' free-agent radar this offseason. So Joe thought Grimes might spill some info. on that, but he didn't.
However, Grimes did touch on how valuable it can be for a cornerback to cover stud receivers in practice, which got Joe thinking about how Darrelle Revis never had a polished Pro Bowler manbeast like Vincent Jackson to work against during his six season with the Jets.
Santonio Holmes, Jerricho Cotchery, Laveranues Coles, post-lockup Plaxico Burress? None of those guys matched the talent, size and versatility of Jackson when Revis was their teammate.
If Revis is cleared to practice in Bucs training camp — a big "if" — then he should be treated to a new and educational experience. He and Jackson should be able to push each other to new heights.