Most Improved? How About The Bucs?
May 23rd, 2013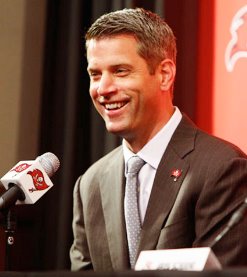 With the possible exception of the Cardinals or (in recent years) the Raiders, few NFL teams look to regress in the offseason. How much a team improves, only the regular season determines that.
In typing a list of the most improved teams in the NFL, Dan Pompei of the Chicago Tribune submitted a piece to NationalFootballPost.com saying the Bucs are the most improved team in the NFC South.
They lost a couple of solid defensive linemen in Michael Bennett and Roy Miller. But the Bucs won't need as much pass rush with the improvements they made in the secondary. They added one of the best safeties in the league in Dashon Goldson, the best cornerback in the league in Darrelle Revis and one of the best cornerbacks in the draft in Johnthan Banks. Derek Landri also was signed to give the Bucs some interior pass rush and offset the free agent losses. On the other side of the ball, the Bucs made Josh Freeman's seat a little hotter, and the depth at the quarterback position better, by drafting Mike Glennon.
Joe respects the hell out of Pompei, Joe's known him for about two decades. He's a class act, stand-up guy. But Joe's going to quibble with a few of his elements.
Yes, Joe believes Pompei is correct. The Bucs should be the most improved team. Whether that turns into a playoff berth in the rugged NFC is a different matter.
Joe isn't sure the Bucs will miss Roy Miller, only because they believe rookie Akeem Spence can fill the void and a sleeper at that positions is Derek Landri.
If the pass rushers the Bucs drafted pan out, William Gholston and Steven Means, fans will quickly forget about Michael Bennett.