"The Rock" Of The Buccaneers
May 8th, 2013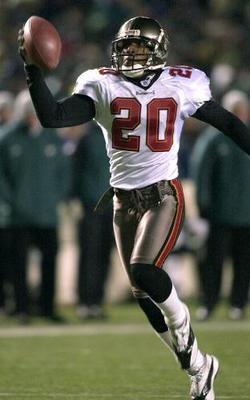 Joe doesn't know where to start when writing about Ronde Barber. Intelligent, classy, professional, consummate teammate. All apply to Barber and may be understated.
Gregg Rosenthal of NFL.com has a better description for Barber. He refers to Barber as "the rock" of the Bucs' franchise.
Tony Dungy's "Tampa 2" defense was one of the most dominant trends of the last decade. In many ways, Barber was the defining Tampa 2 cornerback. He could tackle, cover, blitz, and had great instincts to make big plays. He could play inside and out.

Barber will be an interesting case for the Hall of Fame Committee someday, and we believe he'll have a shot at enshrinement. But that's a debate for another day. There is no debating Barber's place as the rock of Tampa's franchise over the last two decades, a player that outlasted his talented twin brother by six full NFL seasons.
Well-stated. Joe will never forget being at Ferg's Sports Bar during the 2002 NFC Championship game. When Barber picked off Donovan McNabb for a 92-yard pick six, dudes were running down the length of the bar on the patio — a good 30-yards long — as if they were blocking for Barber, pushing him themselves down the field and across the goal line.
With the possible exception of Derrick Brooks, who was beginning to show his age his last two years with the Bucs, Joe cannot think of a Bucs player who was just as good in his final season as he was his rookie year. Barber never appeared to be aging.
A rock? Indeed.