The Freeman Fine Line
May 5th, 2013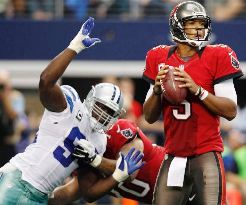 Does Josh Freeman need a "nudge," as is suggested in this NFL Network roundtable analysis of the Freeman-Mike Glennon dynamic?
Joe's never bought the value of the "nudge" factor. But Freeman does need some kind of tweak to right himself back to 2010.
As former longtime NFL general manager Charley Casserly says in the video, Freeman's play "inexplicably tailed off" late in the 2012 season. And it's that unsolved mystery when the pressure was greatest that must be unraveled in Freeman's head.
Interestingly, during a chat with Justin Pawlowski on 98.7 FM last week, Bucs rockstar general manager Mark Dominik talked about Freeman needing to manage the very fine line of "maintaining his competitive edge" by making all the throws his talented arm can execute while not forcing.
John McNulty, you've got a challenge on your hands, one that likely holds the playoff hopes of the Bucs.