Evan Landi Likely To Get "A Shot"
May 5th, 2013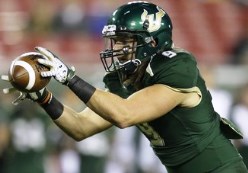 Just like in business, it's good to network in football.
Former South Florida tight end Evan Landi and Bucs coach Greg Schiano go back a ways. Landi attended Schiano's summer camps when Schiano ran the Scarlet Knights program at Rutgers.
Then, Schiano's squads would have to face the Bulls and Landi annually. So when the Bucs began signing undrafted free agents last week, Landi was already on Schiano's radar.
"I go way back with Evan," Schiano said. "I was always a fan of his. He kind of does everything. I think he's got potential."
Landi does pretty much do everything. He was offered a professional hockey contract coming out of high school but decided to stay with football. A quarterback at Coral Gables High School, Landi was converted to a tight end at South Florida. In his final game with the Bulls against Pittsburgh, Landi ran the ball, caught a pass and threw a completion.
Now Joe doesn't expect Landi to see a whole lot of playing time if he makes the final 53-man roster, an uphill battle for any undrafted free agent.
If somehow Landi does make the final cut, Joe sees Landi as being a special teams handyman, being able to do all sorts of things given his athletic versatility.