Strange Spring For Johnthan Banks
May 3rd, 2013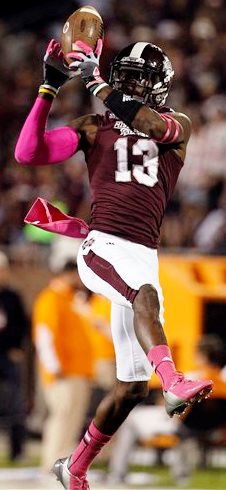 The arrival of spring in Johnthan Banks' world means spring practice and a spring game.
Those days are over for the Bucs' second round pick. Well, at least a spring game.
This evening, Banks came off the Bucs practice fields (he's wearing No. 27) after breaking a sweat for the first time as a member of the Tampa Bay Buccaneers.
It was a different experience for the former Jim Thorpe Award winner.
"This is the first time I haven't played spring football since I was in the seventh grade," Banks said. "It's good knocking the rust off and having fun."
Even though it had been a long day of meetings and then hitting the field for the first time as a professional, Banks was smiling like a kid who found a sparkling new bike under the Christmas tree.
"It was good. It was everything I expected," Banks said of his initial Bucs practice. "It felt like college again coming out hear and learning new stuff. It was fun. Good to be back on the football field again."
Despite a new coaching staff and new teammates and high expectations, Banks was not overwhelmed.
"Most corner play is the same technique," Banks said. "Just getting back out here to compete, just to get back out on the football field for the first time in three or four months is great."
So too would be a chance to play with the great Ronde Barber. As Bucs fans await his decision to return for one (or two?) more years in the pewter and red, Banks hopes Barber gives it one final go with the Bucs.
"It would feel great if I get to play with Ronde and Darrelle [Revis]," Banks said. "It would "be a great learning experience for me from a guy that played 17 years in the NFL."