Greg Schiano Not Going To Coaches' Meet-Up
May 3rd, 2013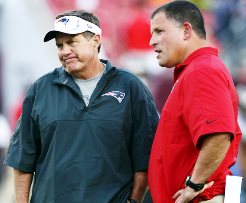 Earlier today, Don Banks of SI.com reported that the Bucs and Patriots coaches were going to get together for a coaches convention of sorts only for the two staffs; the Bucs and Patriots.
Well, you can count Greg Schiano out. The Bucs' head coach, in his post-practice presser Friday evening, stated he wasn't going.
Schiano spoke very little of the event, sort of waving it off as little more than coaches getting together to set parameters of a controlled scrimmages this summer.
Last year the Bucs hosted the Patriots at One Buc Palace in a series of controlled scrimmages and practices prior to the two teams' meeting in a preseason game.
In August, the two teams will meet again at New England. Again, Schiano spoke very little about this other than to downplay it as nothing more than a planning meeting.
A meeting he will not attend.