Spence And Zuttah Square Off
May 20th, 2013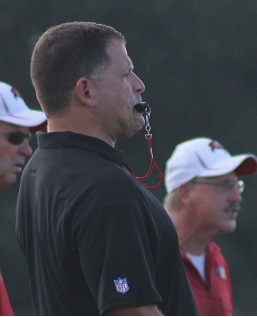 The Bucs' first OTA practice of the year had some very early fireworks, as rookie defensive tackle Akeem Spence got into a fight with Jeremy Zuttah that left the fourth-round pick jerseyless this morning.
It took a while to break up the pile up, as flags flew from the practice referees on the sun-drenched fields of One Buc Palace.
Spence told Joe after practice that it was his first snap of practice and he didn't have a good grasp on how hard to explode off the ball — newsflash, there's not supposed to be contact during these practices — and it seemed Jeremy Zuttah let the rookie know quickly what it's like in the big leagues.
It took a while to resolve, Spence said, because "I'm never going to back down."
"Hopefully [Zuttah] respects me for that because I want to be a part of the team," Spence said. "It's just me not knowing the speed. … Now I know I need to throttle it down a little bit but at the same time get my work.
"I'm not going to back down from nobody so I mean I had to let that be known here on the first day here. So, hey, there it is."
Joe couldn't pick a winner in the scrum, though it seems the Bucs have a rookie that will play hard until and unless somebody tells him to dial it back.