Revis Was A No-Brainer Move By Dominik
May 2nd, 2013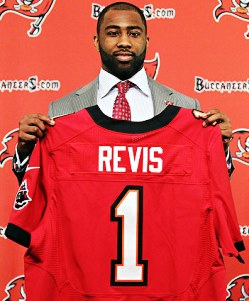 Many NFL types in the fourth estate are trying to grade the Bucs' draft and include star cornerback Darrelle Revis as the Bucs' first-round pick, since it cost a first- and a third-round pick (2014) to land him.
Jason Cole is among that group. He appeared Wednesday on "The Fabulous Sports Babe Show" to explain why Revis may be the Bucs' best draft pick in years.
"If he is healthy, he is a star, a big time star player," Cole said of Revis. "Ask yourself: Would you rather have Sheldon Richardson or would you rather have Darrelle Revis?
"I took the No. 13 overall pick the past 25 years and No. 80 overall pick [third round] and only three guys of those 50 players are even or better than Revis: John Abraham, Keith Jackson and the only guy who was clearly better was Tony Gonzalez. I like my odds, I will take Darrelle Revis."
This is why, if Revis proves healthy, the trade was a robbery of the highest order by Bucs rock star general manager Mark Dominik.
Joe was unaware the No. 13 pick was that vapid the past two decades. Good research by Cole; good stuff.
As for the drafting of quarterback Mike Glennon, Cole said, "He doesn't make my toes tingle."