Number Juggling: Is Myron Lewis Endangered?
May 2nd, 2013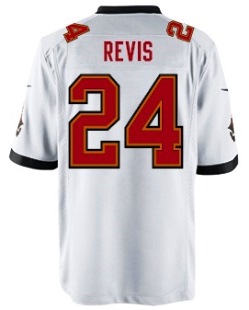 Now this isn't official but it's damn close.
Since the Bucs acquired cornerback Darrelle Revis, it seems Bucs fans wanted to know what number he would wear more than Joe wanted a spare key to Rachel Watson's back door.
It appears that Revis may have been able to purchase jersey No. 24 from safety Mark Barron.
No, the rosters have not changed (as of 1:30 a.m. Thursday) on Buccaneers.com. But on the same site, the Bucs are taking orders for Revis No. 24 jerseys.
At the same time, if you click on "Mark Barron" to purchase his jersey, it is adorned with No. 23.
Who was No. 23? That would be feared Bucs cornerback and fan favorite Myron Lewis.
Now whoever built this page is covering themselves. There is a disclaimer next to the Revis jersey, "NOTICE: Player number has yet to be determined. Jersey will ship once player number is officially assigned." This same disclaimer is not found on the same page as the No. 23 Barron jersey.
Interestingly, in NFL protocol, whoever has seniority with a number decides if he wants to keep a number or sell it. Lewis has seniority over Barron, who has seniority over Revis, which is why Revis would have had to buy his No. 24 from Barron.
There are no Lewis jerseys for sale; they must be customized jerseys.
Now did Lewis sell his jersey number to Barron, or is there a transaction about to be announced? If Revis does have No. 24 and Barron No. 23, it does seem strange neither one of them (nor Lewis) has written anything about this on Twitter.
Joe will be at One Buc Palace later today to get to the bottom of this riddle.