Recent Player Moves A Factor For Barber
May 9th, 2013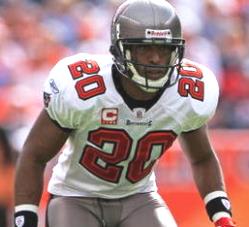 Former Bucs cornerback Ronde Barber (boy, that feels weird for Joe to write) appeared on "The Opening Drive" this morning with co-hosts Bob Papa and Ross Tucker on SiriusXM NFL Radio to discuss his career and factors that led to his retirement.
When pressed, Barber confessed recent player acquisitions by Bucs rock star general manger Mark Dominik helped steer Barber to his decision to retire; but it was not a major factor.
"It's been a good couple of weeks to finalize this decision. I had a great run at it, far more than I could have ever expected. Coming to the end on my own terms is pretty important for me. I had the opportunity to continue to play. Mark [Dominik] and Greg [Schiano] have been good, letting me decide. They wanted me to play and I don't doubt that at all. It was not lip service.

"I had a chance to play in one place for the entirety of my career. I had a lot of peers that weren't able to do that.

"A lot (weighed in the decision). Not as hard of a decision as I thought. After the [2012] season, I was content either way. I probably could have been talked back in. But I'm 38 years old and this team is building in a different direction. Could I have contributed? Absolutely. Would that have been an ideal situation? I don't know. I would have had to figure that out in training camp."
Joe thinks Barber was right. Go out on his own call; his decision. No need to go out playing special teams and being a second (third?) string player.
Segments of the interview can be heard by clicking the orange button below.