Phase II: Coaching Over Culture Change
May 31st, 2013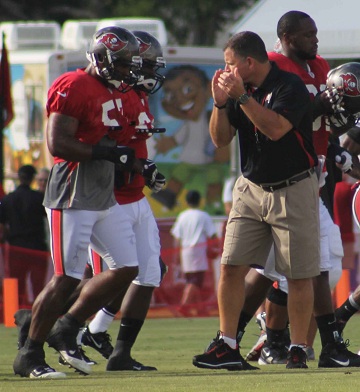 Joe has picked up a theme pulsating through the minds of several returning Buccaneers: the New Schiano Order is flexing its coaching muscles like never before.
Last year was very much about regime change and culture change, as Davin Joseph put it, ditching "country club" life under Raheem Morris. But now players are seeing that it's all about coaching. The Schiano way has been established, and players returned for 2013 with the infinite Schiano rules and processes mastered, and their bodies in great shape.
Donald Penn summed it up well for Joe this week.
"It's a little bit easier on Coach Schiano because he doesn't have to really push his way because we already learned it last year so now it's just a lot of, you know, coaching football now. Helping guys get better instead of trying to coach what he wants to get done."

"Last year we were all looking around, blind-eyed trying to see what he wanted. Now we know what he wants and we're trying to get everybody going and to get everybody to follow the lead."
Penn also emphasized that the veterans are leading newcomers so they can adapt quickly to details.
Joe's not sure what this will mean, but it should mean that the 2013 edition of the Bucs really has no excuses. The talent is here, everyone knows what to do, and the coaches can focus on their craft.