Observations From Bucs OTA Practice
May 29th, 2013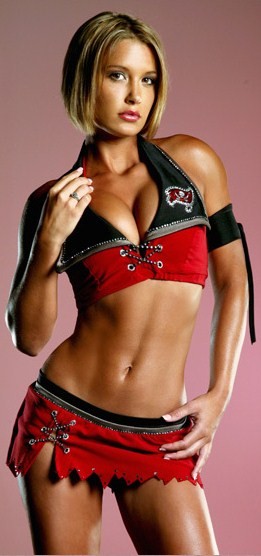 Here are some sights and sounds Joe witnessed and heard at this morning's OTA practice at One Buc Palace:
*Mike Williams is singled out on the first play of practice for hustling down the field. On this particular drill, the entire first team offense had to race from the 20-yard line to the end zone to finish a play as a unit.
*Schiano is heard more today than last week. Shortly into practice, Schiano called a team huddle on the far end of the field for what Joe assumes was some tongue lashing. After the huddle broke up, Schiano walked away and could clearly be heard hollering, "Details, details!"
*Later during a punt drill, Schiano could be heard yelling, "Critical play here, critical play!"
*Bucs were doing what Joe refers to as "stations," where the team is in small position groups and when a whistle blows after a few minutes, the players change stations but the same technique is drilled upon in the each station. In the station closest to Joe, defensive players focused solely on wrapping up on tackles.
*During defensive line drills, assistant defensive coordinator Bob Fraser could be heard asking the players, "Do me a favor and keep your head up!"
*Cornerback Leonard Johnson had a pick of an errant Josh Freeman throw. On the next play, Freeman made up for his previous error hitting Tiquan Underwood on a long bomb down the right sideline for six points. Freeman later showed some outstanding accuracy by throwing low passes to Vincent Jackson and Underwood, passes that were very catchable but difficult for a cornerback to pick, though Freeman did one-hop one badly to Jackson.
*Hoping no player is injured by hitting the ground, Schiano pleads, "HOLD EACH OTHER UP!"
*With Darrelle Revis still unable to participate, the first-team corners were Eric Wright and Johnthan Banks.
*Perhaps motivated to try to keep his roster spot despite a couple of embarrassing brushes with the law in the past three months, Cody Grimm may have had the best practice Joe of the 2013 offseason. He intercepted a tipped pass from Mike Glennon, had a breakup of a Dan Orlovsky offering and generally was all over the field making plays.
*Anthony Gaitor also had a nice tip of a Glennon pass.
*Wide receiver Kevin Ogletree had to come back to catch a poorly thrown pass that was behind Ogletree for a fantastic catch.
*In a defensive backs drill, the defensive backs practice batting down balls and scooping up loose balls.
*On a pass play, Aaron Morgan tried to bull rush Donald Penn, but it was a wrong move. Penn gave Morgan an open-hand punch to the shoulder, knocking Morgan backwards and nearly off his feet.
*Mike Glennon largely looked like a backup quarterback today, though he did show some good pocket footwork under pressure.
*Wide receiver hopeful David Douglas, who was with the Cardinals last season, made a few good catches and really seems to run sharp routes and has a quick burst after the catch.
*Keith Tandy had a near-pick of Josh Freeman. It was unclear whether it was a fourth-down play or not, so Joe can't hang Freeman for what seemed to be an ill-advised throw.
*Mike Williams flashed his athleticism quite a bit. He made a great catch on a short ball behind him with Leonard Johnson in tight coverage. Williams also made a trademark back-of-the-endzone grab of a Freeman pass that drew a lot of celebration and Raheem Morris–era body bumps from teammates. Freeman was running to his right and let go of a pass only Williams could snag.