Cody Grimm Tight-Lipped On Arrests
May 29th, 2013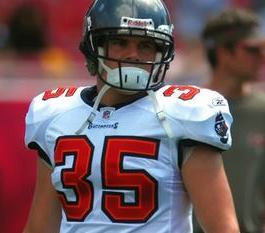 Bucs reserve safety Cody Grimm has had a busy offseason and unfortunately for Bucs brass, it has nothing to do with football and everything to do with not being a Buccaneer Man.
Grimm was pinched over the weekend at a Virginia hotel for public intoxication at 5:30 a.m. following a wedding. As it turned out, he was also cited for the same charge in March, also in Virginia, his home state.
Meeting with reporters after the Bucs OTA practice Wednesday morning, Grimm confessed he has not been behaving like a Buccaneer Man and admitted his Buccaneer fate lies in the hands of Greg Schiano, who stated in his press conference he has talked with Grimm several times since his arrests and is "disappointed."
Grimm seems to have studied the Mark McGwire School of Testimony, saying he can only become educated by his missteps.
"I have to learn from my mistakes," Grimm said. "I can't change anything in the past. I have to learn and move forward. [Future with Bucs] is up to [Schiano]. All I can control is what I can do from here on out. I am not going into details about it. I'm moving forward. That's in the past. It was an error in judgment, clearly."
Grimm, however, practiced like a man possessed this morning. Joe's quite confident he had never seen Grimm perform so well at a practice.
Grimm has somewhat of an uphill battle making the roster, as his only chance seems to be as the No. 4 safety. Tangling with the law in Virginia — twice — certainly hasn't helped raise his stock in the eyes of both Schiano and Bucs rock star general manager Mark Dominik.