Numerology With Warren Sapp
May 2nd, 2013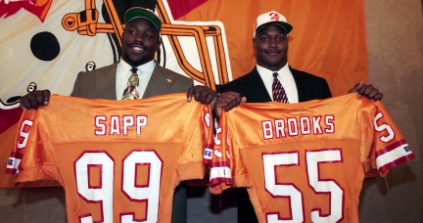 There is so much to write about today with the announcement that Warren Sapp will be the next man in the Bucs Ring of Honor, and will have his No. 99 retired, Joe doesn't know where to start, or end.
Sapp held court with the Bucs pen and mic club for about an hour after the ceremony and, my goodness, Joe cannot understand how Sapp hasn't hosted Saturday Night Live. The guy's personality is bigger than life.
Anyway, Sapp spoke about the oddities of numbers, his numbers and those of his treasured teammate and friend, Derrick Brooks.
"Anybody that knows me knows or follows me on Twitter knows about 11:11," Sapp said. "It's a good luck thing from when I was a kid. Whenever it's 11:11 you are supposed to make a wish."
And growing up in the orange groves of central Florida, Sapp wanted to get out. And if his wish really came true he'd play in the NFL.
He got more than his wish.
Sapp pointed out how he was elected to the Pro Football Hall of Fame on Feb. 2. "Oh-two, oh-two," Sapp said. The date: 02/02.
Then, the icing on the cake, his number, 99, will be retired on Nov. 11. For those counting at home, that would be 11:11. Sapp's wish upon a dream.
And it gets better.
"Ninety-nine and fifty-five, he's right behind me," Sapp said.
That would be double-nickel, Derrick Brooks, who was absent from today's festivities despite loads of Sapp's former teammates and coaches in the house.
"He better be studying tape of the Tampa Bay Storm," Sapp said, shaking his head.