Darrelle Revis Still Numberless
May 2nd, 2013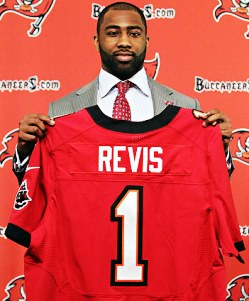 OK, Joe is at One Buc Palace right now for both the Warren Sapp Show, and in a little bit, Joe will get to talk to some of the new draft picks as the rookies ready themselves for rookie minicamp which begins Friday.
So Joe spoke with Bucs officials in the know and the page where jerseys are on sale with a Darrelle Revis No. 24 and a Mark Barron No. 23 is absolutely and totally unofficial. A suit Joe spoke with has no idea why or how those numbers were picked as no decisions have been made.
If Revis was to get No. 24, per NFL protocol, he would have to purchase the number from Barron as Barron has seniority.
The same front office official Joe spoke with said the team would like to find out what Revis' number will be tomorrow, but that date is more a goal than a deadline.