Extending Mike Williams
May 7th, 2013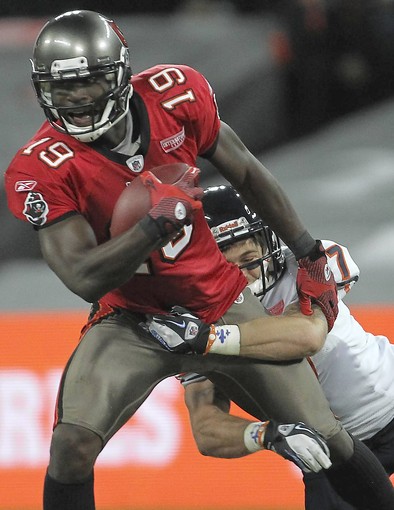 When was the last time the Buccaneers gave one of their own a whopping contract extension before said player's contract was played out?
It's been a long while. Joe can't recall.
That brings Joe to Mike Williams, who is entering the final year of his four-year, $2.3 million contract, which also has additional incentives in it. There's been loads of published chatter about how the Bucs are eager now to lock up Williams for years to come. But Joe is skeptical this will get done.
Why would the Bucs want to drop the necessary pile of guaranteed cash on Williams now when they could let him play out 2013 on the cheap and still potentially franchise Williams for 2014, if they can't re-sign him after this season? The 2014 franchise tag still would be less guaranteed money (about the same gifted to Michael Clayton) than it would take to secure Williams long-term today.
There is the theory of using this season's remaining mile of salary cap room to front Williams money to help keep cash available to re-sign other top Buccaneers down the road. But it's rare around the NFL, and un-Buccaneer-like, to drop a bag of cash on a young guy (Williams turns 26 next week) when it's not necessary.
The Tampa Bay Rays do a masterful job locking up talented players by waving lottery tickets in front of their faces before they have to, ones the players cash in versus waiting for bigger paydays. It doesn't happen often in the NFL.
Joe suspects the Bucs will toss a calculated carrot in front of Williams to see how hungry he is.