Don't Blow It! Check Out Topper Town
May 7th, 2013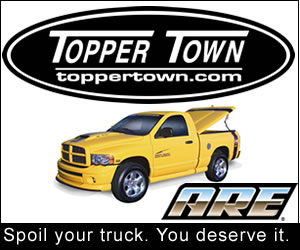 Wake up truck, van and SUV owners!
Check out the good guys (and great Bucs fans) at Topper Town on U.S. Hwy. 19 in Clearwater. They've got all kinds of accessories to improve appearance and functionality of your vehicle — toolboxes, ladder racks, utility covers and toppers — for work or fun. Topper Town does it all.
So stop by Topper Town, check them out online, or give the guys at Topper Town a call today to get a quote to freshen up your car, truck, van or SUV.
Topper Town has been a family owned business for 35+ years. These guys will take care of you big time and already have impressed many JoeBucsFan.com readers. Check out the Topper Town website today.