Sapp Says Revis Is A Me-First Guy
April 22nd, 2013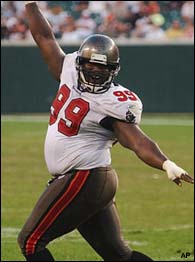 Warren Sapp says there's a capital "I" in Revis, and No. 99 doesn't like that for his beloved Bucs.
Speaking to eye-RAH! Kaufman of The Tampa Tribune, Sapp says Darrelle Revis isn't bleeding pewter and red.
"He's selfish and he's never been a team player," Sapp said. "We didn't win the championship that way. Derrick Brooks and I always cared more about the team than ourselves."
These are very harsh words from Sapp. Revis seems to have had thorough respect from his Jets teammates and coaches. Yeah, if Sapp is one of those guys that doesn't believe in contract holdouts and business negotiation tactics, then Revis is sure to be on his crap list after two contract squabbles with the Jets.
And Mr. Sapp, didn't Derrick Brooks pull a holdout stunt with two years remaining on his contract?
Joe's not going to judge Revis on his business beefs with the Jets. The guy brings his A-game to the field and to the negotiating table. Joe's ok with that.