Odds Of Eric Wright's Return Increase Daily
April 1st, 2013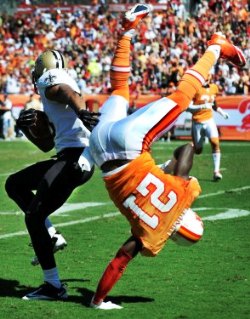 Last year when Bucs cornerback Eric Wright got popped for popping Adderall, many Bucs fans screamed that the Bucs needed to jettison the troubled cornerback immediately.
It looked like that was about to happen when Bucs rock star general manager Mark Dominik invoked a clause in Wright's contract, one that void it for being suspended by the NFL; Wright served a four-game sentence.
Sadly, per Dominik and Bucs coach Greg Schiano, they determined that the free agent class for corners was so weak, short of trading for Darrelle Revis and drafted two corners high in the draft, it gets more and more likely Wright will be back with the Bucs, warns Woody Cummings of the Tampa Tribune.
Bucs fans might shriek, but I think it's time they start getting used to the idea of cornerback Eric Wright coming back and wearing red and pewter again in 2013.

The decision not to delve into what most NFL scouts agree is a very shallow and muddy pool of free-agent corners is one reason the Bucs appear to be leaning toward retaining Wright, but there's more to it than that.

The Bucs spent two years chasing Wright and wound up overpaying to get him last year, but they still like his skill set and upside and believe he can still be an asset if he can smarten up.
Later in the story, Cummings quotes Schiano saying Wright is a "reliable player."
Yes, Joe is like most Bucs fans and thought waving goodbye to Wright was a good thing. But as Raheem Morris once famously said to Stylez White, "I will tolerate you until I can replace you."
To date, the Bucs have yet to be able to replace Wright.