No Sophomore Slump For Doug Martin
April 6th, 2013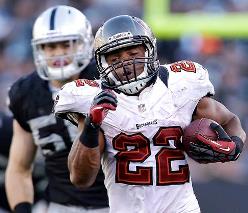 One great thing about last year — granted, there were few "great" things that happened — was the emergence of running back Doug Martin.
The Bucs had not had a consistent running attack since the WD40 days, Mike Alstott's pounding and Warrick Dunn's escapability.
Doug Martin blasted onto the scene last to become one of the NFL's best running backs. And he did this with a mangled offensive line.
Sophomore slumps are common in the NFL because teams adjust to rookies who shine. This was a subject in a recent NFC South chat on the servers of BSPN.
Scott (Northglenn, CO): Any reason to be concerned about Doug Martin regressing his second year? More focus on him?

Pat Yasinskas: Doubt it. He'll have his two Pro Bowl guards back and that should make him even better.
Barring injury to Martin, there should be no sophomore slump. As Yasinskas suggested, Martin, Joe expects, very well could be improved.
Back will be a healthy Davin Joseph. Back will be a healthy Carl Nicks. Jeremy Zuttah will return to center, and there is a very real possibility the Bucs could upgrade at right tackle.
No, Martin should be just as good as in his rookie season, if not better.