"No Reason" Not To Win 10 Games If…
April 3rd, 2013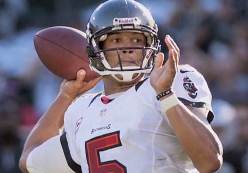 Yes, the Darrelle Revis to the Bucs chatter shows no signs of letting up, partially because at this time the Bucs have two moon craters roughly the size of the Grand Canyon at cornerback.
Bucs fans are anguished, upset, frustrated, nervous, angry, and fed up with seemingly no movement in sight — in their eyes — to try to fix one of the worst cornerbacks stables in NFL history, despite the draft around the corner and the regular season not kicking off for another four months.
Joe's of the mind Bucs fans are so peeved a cornerback hasn't been signed, they'd settle for a cripple so long as his first name isn't "Myron." Now there are fans out there who believe Darrelle Revis is not the answer. In fact, these same fans believe Revis alone is not a savior, and he can't single-handedly put the Bucs in the playoffs.
The person who would have to get the team over the hump, even with Revis, said fans belelive, is Bucs quarterback Josh Freeman.
One of these fans fired off an e-mail to olive oil-lapping, popcorn-munching, coffee-slurping, fried-chicken-eating, oatmeal-loving, circle-jerking, beer-chugging, cricket-watching, scone-loathing, college football-naïve, baseball-box-score-reading Peter King of SI.com.
RICK DOESN'T THINK REVIS IS WORTH TWO HIGH DRAFT PICKS. "Trading that much for Darrelle Revis is a bad idea. The Bucs are not one player away from winning it all. Revis has proven himself as a player more focused on his contract and he uses the media to push that agenda. Greg Schiano isn't the type of coach to condone that. The Bucs are a young team. I am not sure Revis is the type of player you want mentoring your young players. I say one second-round pick and a contract worth no more than $9 million a year considering the current CB market would be a fair trade."
— Rick, Providence.

That's not going to get it done — either in compensation paid to the Jets, or contract paid to Revis. You may be right about the Bucs not being close. But I will say that they were playing well at the start of last year, and if Josh Freeman can be a B quarterback, they acquire Revis, and Revis stays healthy, there is no reason why Tampa Bay can't win 10 games and be a playoff contender.
Though Joe wouldn't lose too much sleep if the Bucs get Revis, coughing up two first round picks is a bit much.
As Joe has stated many times before, the Bucs are not one player from a Super Bowl, far from it. While Revis will surely help, Joe just cannot see the Bucs hoisting a Super Bowl trophy aloft in victory just because Revis is wearing pewter and red.
Will Revis help? Sure. Is he the answer? Not unless Freeman can prove his 2010 season was the norm.