Darrelle Revis Hampering Bucs' Efforts?
April 3rd, 2013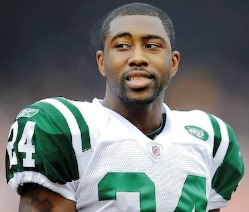 If Captain Munnerlyn of the stinking Panthers is to believed, the reason why the Bucs have not signed a free agent cornerback, which has caused too many Bucs fans too many sleepless nights, is that Bucs rock star general manager is waiting on Jets general manager John Idzik to make a decision on whether to trade cornerback Darrelle Revis to the Bucs.
Munnerlyn appeared with Joe's good friend, "The Commish," Justin Pawlowski, of WHFS-FM 98.7 to discuss the NFC South today. Munnerlyn admitted the Bucs contacted his agent "several times" and seemed serious about signing him but the Bucs, Munnerlyn thought, failed to close the deal because they are handcuffed by indecision from the Jets.
"I had six or seven teams [reach out]," Munnerlyn said. "I was waiting on Tampa too, but I think they are waiting on Darrelle Revis. [The Bucs] contacted me several times. Them and my agent were going back and forth but couldn't get [anything] done. I guess they are waiting on Darrelle Revis."
Munnerlyn claimed the Bucs were up front with his agent and claimed they were waiting to make a move at corner but were hesitant not knowing Revis' status.
"I had made up my mind to stay in Carolina," Munnerlyn said of signing with the stinking Panthers. "My heart is in Carolina."
Munnerlyn broke down the Bucs defense and lauded safetes Dashon Goldson and Mark Barron, claiming they may be the best tandem in the NFL. He was not as complimentary about the Bucs' corners saying, "I could come in and play right away" had he signed with the Bucs.
Also, Munnerlyn claimed Josh Freeman played "a lot smarter" than in 2011, Vincent Jackson changed the Bucs offense, and he said Greg Schiano "did a wonderful job" in his first year with the Bucs.
The entire Munnerlyn interview can be heard by clicking here.