More Depressing Ronde Barber Analysis
April 30th, 2013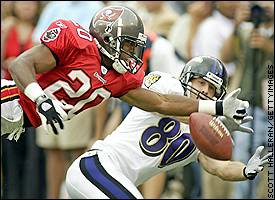 Yesterday, Joe brought the words of Woody Cummings of The Tampa Tribune who believed, if Bucs icon Ronde Barber were to come back, it would almost certainly be in a backup role.
Well today, ESPN NFC South blogger Pat Yasinskas has even more depressing look at the situation. He's of the belief that for Barber to come back, he would have to play some special teams roles. That may end the Bucs playing days of the best cornerback to wear a Bucs uniform.
Ronde Barber. The Buccaneers say they still want the veteran defensive back to return for another year. But in what capacity? He's not going to start at free safety because the Bucs signed Dashon Goldson. A return to cornerback is possible, but Barber likely would be behind Darrelle Revis, Eric Wright and rookie Johnthan Banks. Backup safeties and fourth cornerbacks almost always have to play special teams. Do you honestly see Barber doing that at this point in his career? If he wants to keep playing, there might be a place or two where he can still be a starter and that could mean he won't play his entire career with the Bucs.
The NFL is not high school nor college. Loyalty, for better or worse, is "What have you done for me lately?"
Lately, Barber has been waffling, struggling, on what decision he should make; return to the Bucs, try to land someplace else, (which he has all but ruled out) or retire?
While Barber has been contemplating his future, the Bucs went out and got the best safety on the free agent market, traded for the best cornerback in the NFL (when healthy) and spent their highest draft pick this spring on another corner.
Joe cannot blame the Bucs here. To let an offseason go by while waiting for Barber to make a final call and not to upgrade what was a grotesque pass defense would have been irresponsible.
Joe would love to see Barber come back for one more last lap in the sun. It's beginning to look more and more as if that final turn has already happened.