Bucs Drawn To Banks' Maturity
April 30th, 2013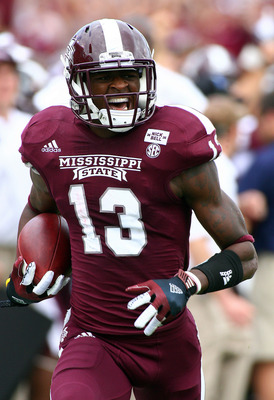 After the Bucs drafted cornerback Johnthan Banks with their second-round pick last week, Bucs honchos were quick to praise the maturity of Banks and how he's a prototype Buccaneer Man.
Beaming Greg Schiano told media, "He's one of us, guys. I can't say it better than that. This guy is going to fit right into our football team, skill set, personality, character." Rockstar general manager Mark Dominik called Banks a "very mature" 23-year old (Banks turns 24 in October) and referenced that Banks is married with a son.
Joe found an interesting story out of The Oklahoman about Banks' pain when he decided to turn pro after his junior season in 2011. Banks, projected as a mid-round draft pick, wanted cash to support his family, but that wasn't enough.
Finally, though, Johnthan Banks broke down one night and tearfully confessed he'd changed his mind.

Several of his goals remained unaccomplished. Banks wanted to earn his degree, which he'll now complete this spring.

A Jim Thorpe Award semifinalist as a junior, Banks wanted to win the 2012 award.
It's hard to imagine Banks isn't NFL-ready, and he's far more mature than most rookies when you factor in his age, personal life and four years of starting in the SEC.  That's a damn good thing given the unreliability of Eric Wright.
Here's a 2013 interview with Banks below: