LeGarrette Blount Traded To Patriots
April 27th, 2013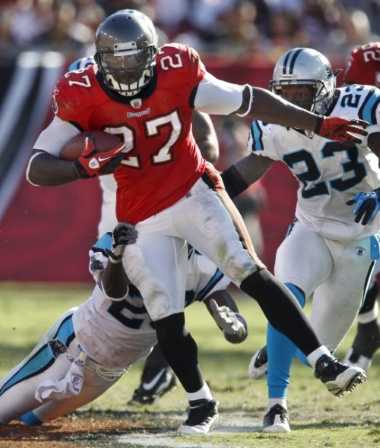 The soap opera with Bucs running back LeGarrette Blount is over. He's now a soap opera for Bill Belicheat, as Blount joins Aqib Talib and the Patriots.
In return, the Bucs get track star Jeff Demps and a seventh-round pick this year.
Bucs rock star general manager Mark Dominik emphasized the trade was specifically for the Patriots' seventh round pick today.
Dominik noted that the Bucs, almost as an aside, asked for the rights to Demps. It is unclear whether Demps wants to be a full-time football player, as Dominik noted Demps is interested in continuing his track pursuits.
"We are just taking [Demps'] rights to see what happens," Dominik said. He also added the Bucs and Demps have been in communcation about a possible contract.

"He practiced with us down here last summer [as a member of the Patriots in intersquad scrimmages at One Buc Palace] and he had a good [preseason] game against us.

"Jeff Demps was part of [the trade] but not the reason for it. We want to investigate that future."
Dominik noted that with two picks left today in the seventh round as a result of the trade, running back, the void left by Blount's trade could well be addressed, as could free agents between now and the beginning of training camp.
"LeGarrette has been a good football player for us but as an organization, we felt this was best for our football team," Dominik said, noting Blount was entering the final year of his contract.
Demps, who played football at the Unversity of Florida, is a speedster who saw limited action with the Patriots before turning his full attention to his track career.
"We understand he wants to run track and play football," Dominik said.