How Many Players Away With Revis?
April 21st, 2013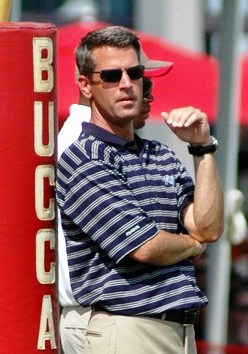 A common take on the potential Darrelle Revis acquisition goes like this, "The Bucs aren't one player away and Revis won't push them over the top, so his price is too high."
But that's sort of ancient history now, given that Bucs doctors are inspecting Revis tonight and a trade is imminent.
So Joe must ask, "How many players away from a Super Bowl run are the Bucs with a healthy Revis on the roster?"
If the Bucs pull-off the win-now Revis acquisition, then the Bucs really must complement it with upgrades to the pass rush and another cornerback, and convince Ronde Barber to return. Veteran defensive help is still available.
Joe believes the Bucs have a win-now offense, built with a Rolls Royce offensive line containing four longtime veteran starters, three of Pro Bowl caliber. Plus, the Bucs sport superior No. 1 and No. 2 receivers, a Pro Bowl running back, and a QB that has mad talent, loads of experience, and is entering his second year in the current offense. If the Bucs' offense isn't playoff-caliber in 2013, then a horrendous coaching or QB failure has occurred.
The Bucs will be pretty close with Revis in tow — close enough to put massive pressure on the New Schiano Order.