Harsh Critique Of "Cap Guy" Dominik
April 15th, 2013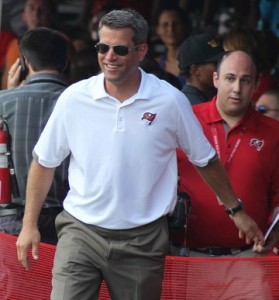 Veteran NFL scout Chris Landry, who also works for various media outlets including Yahoo! Sports, joined The Steve Duemig Show on Friday and spent a good chunk of his time passionately criticizing the way the Bucs have handled their offseason and a potential Darrelle Revis trade.
Landy said "there's never been a better year to fill needs" and the Bucs haven't gotten the job done in "a buyers' market."
Multiple times Landry referred to rockstar general manager Mark Dominik as a "cap" guy (versus a "football guy.")
Landry said the Bucs should have added all kinds of quality and inexpensive depth, pointing to the limited amount of guaranteed money paid to free agent cornerbacks Antoine Cason, Captain Munnerlyn and Brent Grimes; Landry would have signed all of them, as well as defensive ends Robert Geathers of the Bengals and Michael Bennett. Plus, Landry would have signed Roy Miller — "$650,000 guaranteed [with the Jaguars], are you kidding me?"– and Kevin Vickerson and Sen'Derrick Marks at defensive tackle, as well as new Bucs DT Derek Landri.
The Bucs had plenty of cap room for these "bargains" and their low guaranteed money would have given the Bucs competition at key positions, the freedom to still trade for Revis, and not force their hand in the draft. Landry emphasized many times that cutting any of the aforementioned free agents would have had negligible impact because of their limited guaranteed money.
On the offensive side of the ball, Landry was calling for signing tight end Dustin Keller ($2.25 million guaranteed).
Regarding Revis, Landry is fundamentally opposed to a Bucs-Jets deal now and blamed its genesis on Team Glazer and Dominik looking to make a splash.
"You don't make a trade for a player that's coming off an injury until you see him play," Landry said on WDAE-AM 620.
"This is coming from upper management. This is coming from ownership. And this is part of the problems, when ownership becomes involved to the point where, and you got a cap guy running the franchise that kind of is like, "Ok, we gotta make a splash." In other words, you failed if you don't get this trade done. It's not your job to do a trade or to make things splashy. It's your job to do the best job for your team. So whatever it is they need to do to make their team better, that's what [Dominik] and them need to do.
"I think kind of creating an atmosphere if they don't get this trade done, by God, they've screwed this up. That's where to me they have screwed it up. Because they're bidding against themselves."
There's plenty more. You can catch the entire interview below.