Darrelle Revis Could Prove Eric Wright's Worth
April 15th, 2013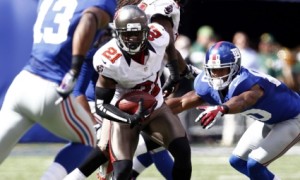 Saturday morning during the "Weekend Kickoff," co-hosted by Howard David and Amani Toomer, heard exclusively on SiriusXM NFL Radio, a Bucs fan called to ask whether Eric Wright and Darrelle Revis in the Bucs secondary would become the top pair of corners in the NFL.
Toomer wasn't sure how to answer that, but he did note Bucs fans will find out soon enough just how good of a corner Wright is if Revis comes to Tampa Bay.
"I don't know how great Eric Wright has been throughout his career but he is a corner they have wanted for some time down there. And if they get Darrelle Revis, we will get to see how good Eric Wright is, I'll tell you that. Because [opponents] will not be throwing the ball at Revis. They will be throwing the ball at Wright. He's going to get a lot of opportunities to show how really good he is."
That's a helluva point by Toomer. If Revis is fully recovered from his ACL surgery, quarterbacks are going to test Wright play after play after play, assuming Wright makes the team and is a starter.
How w0uld the Bucs combat this? Well, with Revis and safeties Dashon Goldson and Mark Barron, Joe's going to guess that Bill Sheridan, the Bucs defensive coordinator, would roll some coverage over toward Wright's side of the field.