Darrelle Revis Not Confident Of Trade To Bucs
April 5th, 2013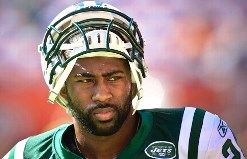 It seems cornerback Darrelle Revis is of the mind that the Jets, his current employer, are not about to get a deal done that sends him to the Bucs.
NFL.com's Ian Rapoport appeared on NFL Network this evening and spoke to someone who has first-hand access to Revis. Per Rapoport's contact, Revis doesn't think the Jets and the Bucs can finish a deal, as the two teams have come to a stalemate in the trade talks.
While Revis, per Rapoport, believes the Bucs will pay him well and Revis believes his best chance of hitting a payday is with a trade to the Bucs, Rapoport claims the Jets are insist on getting the Bucs' No. 13 pick in this month's draft. He also claims Bucs rock star general manager Mark Dominik has his heels dug in and he will not give up that pick.
What does Joe think? Bravo, Dominik, bravo. You have all the leverage Mr. Dominik. Don't cave.