Blount Breathing Easier With Ware's Ouster
April 4th, 2013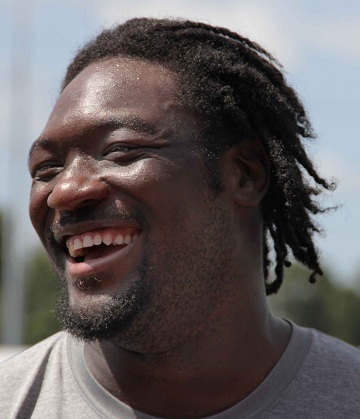 When the Bucs signed former Rutgers icon Brian Leonard this week, Joe figured D.J. Ware was the guy in trouble. But given Leonard's versatility at running back/fullback, there was at least a shot that the New Schiano Order was preparing to dump its talented backup RB, LeGarrette Blount.
However, Blount is still a Buccaneer Man, and Ware is walking the streets.
Joe is pleased.
Blount remains a holstered, loaded weapon (or at least zipped up in airport luggage), and there's really no reason for the Bucs to ditch the depth he provides. Sure, if a third- or fourth-round pick is served up to rockstar general manager Mark Dominik for Blount, then the Bucs must make that deal, considering they'll never re-sign Blount when he hits unrestricted free agency after the 2013 season. But there's no way that happens. Running backs, outside of a select few, don't carry that kind of value.
Joe would prefer to see the Bucs' offensive braintrust figure out ways to incorporate Blount and play to his strengths. After all, if the Bucs make a win-now move for Darrelle Revis, then Blount's final year in pewter is one in which he should be maximized.