Blidi Wreh-Wilson And The Bucs
April 1st, 2013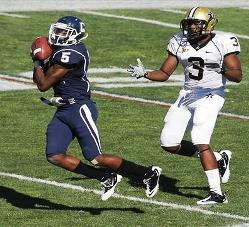 Lord do the Bucs need cornerbacks. Joe's pretty certain a man dying of thirst stuck in the Mohave doesn't need water as much as the Bucs need corners.
Joe is pretty convinced the Bucs will draft at least two,  and one corner that intrigues Joe is Blidi Wreh-Wilson of UConn.
No, UConn is not the SEC. Hell, it's not even the Big Ten. Wreh-Wilson has Joe's eye because he is one of the top corners in the draft, maybe a third-round pick, but he seems to have a high ceiling.
Wreh-Wilson is 6-1 and has limited football experience having played soccer. But he told Joe and the rest of the pen and mic club at the NFL Combine that soccer gave him great footwork and his athleticism enables him to play all sorts of different coverages.
"I played soccer from the time I was 5 until my junior year," Wreh-Wilson said. "I played football in sixth, seventh, eighth grade, and I made the final transition my senior year from soccer to football. I played — freshman, sophomore, junior year soccer. I was little bit smaller, so my dad was kind of wary on the football thing, and he was kind of worried about my safety. But I made a decision I wanted to play football and he was all for it."
Wreh-Wilson credits soccer with his ability to hang with receivers.
It has helped a "lot. Yeah, a lot," Wreh-Wilson said. "The body control, the footwork — a lot of things like that transferred. You don't use your feet really in football. You can't kick anyone, so I guess I'd have an advantage on people if you could do that."
Wreh-Wilson's size has really been an attribute.
"You' ve got to know when to strike, because those guys are going to be bigger than you and they're going to run into you and things like that," Wreh-Wilson said. "If you're getting caught up in that, you might take yourself out of position. So you've got to know the right timing, the right placement and how to be crafty with your style of play."
You know what is really interesting about Wreh-Wilson? It's who he patterns his play after.
"I base my game off Darrelle Revis," he said. "The same techniques he uses we used at UConn. We watched a lot of his film."
And we all know how much Bucs coach Greg Schiano likes Big East players. Just something to think about in about three weeks.