The Bucs And Free Agent Cornerbacks
March 25th, 2013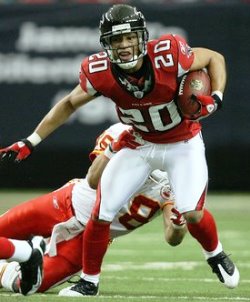 Though the tone has died down a bit since it was learned why Bucs rock star general manager Mark Dominik let last year's Bucs sacks leader Michael Bennett walk away, Bucs fans are still irritated Dominik hasn't pulled a federal government and gone wild with Team Glazer's American Express card.
Specifially, Bucs fans are angered Dominik hasn't signed a cornerback — any cornerback with a pulse — who fans believe would be a significant improvement over projected starters Danny Gorrer and Eric Wright.
Even Joe's good friend "The Commish," Justin Pawlowski, of WHFS-FM 98.7 can feel the tension in the air.
Yes, the Bucs made a big splash with the signing of Dashon Goldson at safety, but Bucs fans want more.

Sure, the Bucs made under-the-radar signings of Kevin Ogletree as a slot receiver, Tom Crabtree at tight end, and Jonathan Casillas at outside linebacker, but Bucs fans still want more…and why shouldn't they?

The Buccaneers still have holes at the biggest need areas on their team even after 2 weeks of free agency. While we've mentioned cornerback, the Bucs defensive line lacks any depth, they have no right tackle, and a threat across the middle of the field on offense is still uncertain.
Joe will have more tomorrow on why Dominik possibly has been quiet of late, but let's look at the obvious, shall we?
Yes, Joe knows Dominik hasn't signed Brent Grimes, although there are/were rumors Dominik might be interested. Please note that 31 other teams seem to be looking the other way on Grimes, including his former team looking to return to the NFC Championship, the Dixie Chicks.
If Grimes is still a valuable commodity, like he was before he blew his Achilles tendon, wouldn't the Dixie Chicks have already locked him up? As the old (?) NFL saying goes, "If they want you, they'll find a way to keep you."
While Joe wouldn't mind the Bucs taking a stab at Grimes — hell, Lakewood High School's cornerbacks might be an upgrade — there seems to be a reason why he's still looking for work.