Team Glazer Pushing For Darrelle Revis Trade?
March 21st, 2013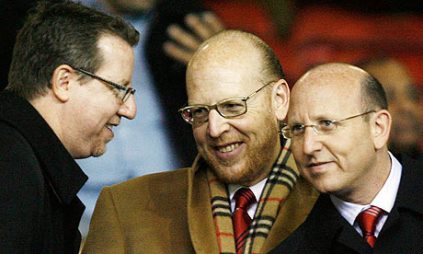 Now this is getting interesting.
The creator, curator and overall guru of ProFootballTalk.com, the great Mike Florio, fresh off a trip to work the NFL owners meetings in Arizona, posted a very interesting item about the Darrelle Revis-to-Bucs rumors.
Apparently, per Florio, Team Glazer is the engine behind the trade talks.
One thing is becoming more obvious: The move to get Revis is coming from Tampa Bay ownership. That's what one source with knowledge of the trade dynamics told PFT on Thursday.

The two teams are believed to have dug in on the question whether the package of picks will be headlined by a first-rounder in 2013 or a first-round selection in 2014. If that's the only difference, and if the folks who sign the checks have decided they're ready to write some big ones to Revis (even though the cornerback market has softened significantly in the past nine days), there's a good chance they'll direct G.M. Mark Dominik to give up the first-round pick in 2013.
Now this is a bit surprising to Joe. Generally, Team Glazer stays out of player personnel moves other than, obviously, to say they are willing to cut a check, like they have for top-shelf free agents over the past year.
There was a comment this week from Bucs co-chairman Joel Glazer that jumped out at Joe, by way of eye-RAH! Kaufman of the Tampa Tribune:
"To me, one year without a playoff win is too long," Glazer said. "Ten years is extremely disappointing, but I have great confidence we have the people in place to reverse that trend. It's tough to win in this league, but it's within everyone's control to change their course. Ultimately, it falls on our shoulders as owners. We're not going to hide from our responsibility. All we're going to do is work our tails off that it doesn't continue."
Is Team Glazer pushing Dominik to get a deal done? If that were true, Joe suspects a deal would already be done. Joe's going to take another stab in the dark and suggest Team Glazer has OK'd cash for a potential Revis contract but is leaving the dirty work of hammering out a trade to Dominik.