Subpar Bucs Pass Rush Just Got Worse
March 15th, 2013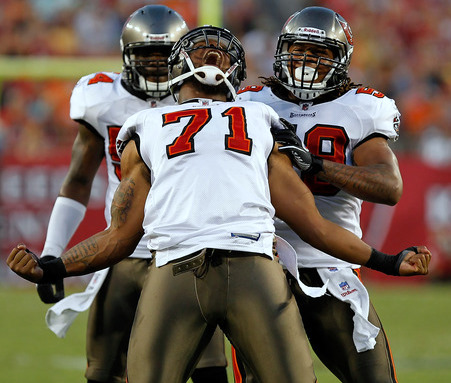 It is 2:25 a.m. as Joe is typing this post on an otherwise quiet, peaceful time in the small hours of Friday morning. Joe has had but two beers, and has spent the better part of Thursday evening trying to clear his head.
On an under-performing defensive pass rush, sans Gerald McCoy, the Bucs let loose their most effective pass rusher (who was also damned good against the run) over a paltry $5 million despite having over $20 million in Team Glazer currency to play with.
Joe went and saw "Emperor" last night and then watched college hoops trying to understand the rationale of letting your best pass rusher go over relatively minimal cash when that is one a weak trait of your team.
It seems Scott Reynolds can't figure this move out either. The Pewter Report chieftain took Bucs rock star general manager Mark Dominik to task for letting Michael Bennett walk away.
Bucs general manager Mark Dominik gave overrated receiver Michael Clayton $6 million in 2009. He caught a career-low 16 passes for 230 yards and one touchdown before being released prior to the 2010 season.

With just over $20 million in salary cap room left in 2013 Dominik couldn't spare $5 million to keep the team's best pass rusher?

Dominik also gave running back Derrick Ward, a bum, $5 million in 2009. He rushed for 409 yards and one touchdown, while averaging 3.6 yards, in addition to catching 20 passes for 150 yards and two more scores before being cut after just one season in Tampa Bay. Clayton and Ward were fat-cat players who played football for the paychecks. Bennett, who led the team with a career-best nine sacks in 2012, plays football for the love of the game and it shows in his performance.
Reynolds also noted how cornerback Eric Wright, a team disappointment and a public embarrassment, was paid more than what Bennett received from the Seahawks.
Now Joe has stated before several times he had a hunch that Dominik was going to draft a pass rusher at No. 13. Joe is even more convinced of that now.
If Dominik doesn't draft a pass rusher, or sign one in the next few days, he's putting a whole lot of stock in a player (Da'Quan Bowers) who has yet to prove he can stay healthy. Then there's his gun hassle in New York, which could affect his availability in 2014.
Lest we forget, Adrian Clayborn is coming off major knee surgery. Will he return to 100 percent? Joe doesn't have a crystal ball.
No, Bennett was no Reggie White. But he was the best the Bucs had at putting heat on the quarterback from the edge. And now he has escaped to Seattle.
As much as Joe lauds Dominik for landing Dashon Goldson, he's scratching his head over letting Bennett bolt to the Northwest.