Quincy Black is Gone
March 14th, 2013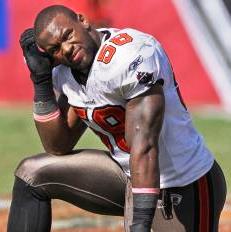 Joe takes no pleasure or joy in typing this. None at all.
Bucs linebacker Quincy Black has been cut because of the nerve damage he suffered last year and it is clear he will be unable to return.
Now Joe knows he has been Black's harshest critic. Until this past season, Joe just could not understand how Black was re-signed by Bucs rock star general manager Mark Dominik, or was even on the field.
Black, until 2012, was about as invisible of a linebacker as Joe had ever seen. Good running backs, like the Rams' Steven Jackson, literally ran rings around him. And Joe literally means "rings." Ever see a guy run around a light pole? That's exactly what Jackson did to Black, as did other top running backs.
Joe can only believe Black improved because he finally had a defensive coach who had a friggin' clue. Black's play was actually decent, bordering on good. Yes, Joe is serious.
Look, if you are an strongside linebacker on the NFL's top rush defense, you are doing something right. Joe remembers the depressing body language of Greg Schiano when Black was hurt, and Schiano said Black was finally starting to hit the promise the Bucs always had for him.
No player wants his NFL career to end when it does. Father Time is undefeated. But no player, nor any thoughtful fan, wants to see a guy leave the game under the circumstances under which it appears Black is leaving.