Michael Bennett Will Give Bucs One Last Shot
March 9th, 2013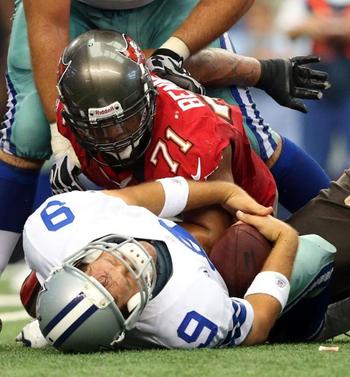 All indications from many sources are that Bucs defensive end Michael Bennett has played his last snap with the Bucs. An unrestricted free agent, and the leader of the Bucs in sacks (nine), Bennett is expected to get stupid money from desperate teams on the open market.
And it appears the Bucs are willing to let him loose.
But there is still a glimmer of hope for Bucs fans, per Joe's good friend Justin Pawlowski. "The Commish," of WHFS-FM 98.7. Pawlowski Twittered last night that Bennett will give Bucs rock star general manager Mark Dominik one last chance.
@CommishOnline: I can confirm that Bucs DE Michael Bennett will most likely leave Bucs during free agency, but will give them a chance to match any offer.
Well, that's how it should be. Joe understands Dominik has a specific figure budgeted for Bennett and, if someone is going to pay him crazy money, well, good for Bennett.
It's good of Bennett that he will give the Bucs one more shot. If for some odd reason other teams aren't wild about Bennett, the window is open for a return.