Bucs Want Ronde Barber
March 9th, 2013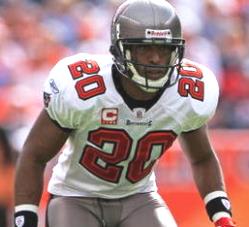 Less than an hour after NFL teams were allowed to talk turkey with player representatives of free agents about jobs, Rick Stroud of the Tampa Bay Times writes that the Bucs want Ronde Barber to return.
One of the greats to ever wear a Bucs uniform spoke with Stroud at Eddie DeBartalo's shindig Friday night and Barber said, while the Bucs want him back, he's not so sure he wants to play another year of NFL football.
"They want me to play, but they have left it up to me like they have pretty much every year," Barber said at the DeBartolo Family Foundation All-Star Celebrity Gala. "I've got time, so I'm going to take my time."
What does this tell Joe? While the Bucs want Barber to return, Bucs rock star general manager Mark Dominik isn't going to sit still about adding a safety whether that is in free agency or the draft.
Look, clubs cannot be painted in a corner like this. Would Joe love to see Barber return? You bet. But the Bucs cannot sit on their hands waiting for Barber to make a decision.
As much as Joe loves Barber, who should be a member of the Pro Football Hall of Fame some day, the Bucs need to address their woeful defensive backfield ASAP. If Barber decides to be a member of that group, great.
The Bucs cannot wait on Barber's decision — when will he decide, June? — while other teams gobble up or draft players that could fill Barber's position.