Michael Bennett And Prices For Defensive Ends
March 14th, 2013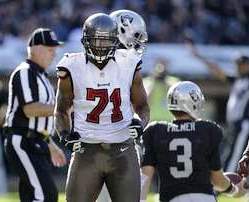 Late last night, cornerbacks started flying off the free agent market, but a few good ones (Sean Smith, Brent Grimes, included) are still available.
Defensive ends, not so much. Cliff Avril, one of the better defensive ends, agreed to terms with the Seahawks for two years at $6.5 million year.
Mind you, Avril turned down a three-year contract extension from the Lions for $10 million a year earlier in 2012.
So perhaps defensive ends may have overvalued themselves?
This leads Joe to Michael Bennett. He and his agent, oily Drew Rosenhaus, have never closed the door on the Bucs. Before free agency, if Joe was told Bennett could be had for less than $7 million a year, Joe would have considered that a fair bargain.
Now it seems Bennett would be lucky to get that much.
Given the fact Bennett has not told the Bucs, "Sorry man, I'm gone, don't call me," it seems there is still a good chance for Bennett to come back. He has professed his desire to stay in Tampa Bay publicly the past week.
Maybe, just maybe, the Bucs will luck out and get Bennett back.