Mark Dominik Speaks
March 21st, 2013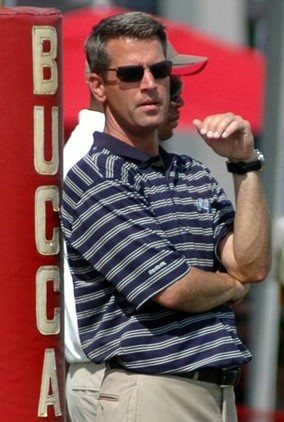 Yesterday, Joe brought you two nuggets (here and here) of Bucs rock star general manager Mark Dominik's interview on "Movin' the Chains," with co-hosts Pat Kirwan and Tim Ryan heard exclusively on SiriusXM NFL Radio. Below is the rest of the interview.
Tim Ryan: We welcome to the program, the general manager of the Tampa Bay Buccaneers, Mark Dominik, how are you doing?
Pat Kirwan: Hello my friend. You are coming in to the winter meetings with draft picks and a lot of cap space, you land a big-name free agent safety, these are good times.
Mark Dominik: It was a hectic situation, and hectic time to get Dashon Goldson into our building for his first visit but it was even better when we got him locked for five years. We felt like he was the best defensive back in free agency. Obviously that is an area we want to improve on in terms of talent. So therefore he was a guy we targeted and we were hopeful [San Francisco] wouldn't tag him and when they didn't, we went after him and we made some other good moves. I like some of the young players we just picked up and we are still talking to clubs and still talking to agents as well.
Ryan: The back end of your defense, the corner population, no question as your young pass rushers get healthy and play more consistent, we all link the coverage to the rush but you have to get some guys behind them. Talk about the secondary.
Dominik: I think it is an important position and that's why we talked about Goldson. I think he and [Mark] Barron back there will be a good combination. Hopefully, they will make the receivers think twice about coming across, but on the outside perimeters we have to continue to address. We liked the way Leonard Johnson stepped up towards the end of the year but also, Greg and I talk about improving the competition and we are not opposed to starting young players or drafting corners and put them in there and play, but we know we need to continue to upgrade the competition level at that position. There is no doubt about that, it's no secret to anybody. We are still talking with some free agents and we are looking at the draft and any opportunity we can improve there we will take a shot.
Kirwan: No names required, you won't name them anyway and I don't need them but your assessment so far on the draft and the cornerback position. Good draft, bad draft, deep, quality players?
Dominik: No, I think it's good. There are quality players all the way through it. There are players I think at cornerback that is consistently – it's not quite the cornerback draft where as you get closer they start skyrocketing up the board. But certainly I have been involved in drafts where there were eight corners taken in the first round. I am not surprised that some of these guys have continued to move up. They have had good combines, a good senior bowl. Those guys I am not surprised that they continue to move up the board so I see a solid three or four rounds of good players and some back end guys that have some speed to them, some height-weight speed. And maybe small schools guys that may get pushed up, so I think it is a solid draft.
Kirwan: This is my estimation, it wouldn't be fair for anyone else, I could be totally wrong here but for our listeners, if I was forced to come up with an answer there are probably four or five first-round corners and there are probably four or five second-round corners. There are some guys there I really like. So, in the first two rounds we could see 10 corners [selected] and all 10 of those guys, there would be an expectation to play those guys, almost right away.
Dominik: Yeah, regardless of what team you are, whether you are Tampa and need a lot of corner help and continue to add to what we have or you could be the Pittsburgh Steelers or whoever it is if you take a corner in the first couple of rounds, you expect him to come in and have an impact. The thing is, we are fortunate in Tampa with Coach Schiano, and who we have in the secondary with Tony Oden and Jeff Hafley are secondary coaches, they are not afraid to play a young guy. That's a great thing.
Ryan: What about your first three picks last year and the impact those cats had, the Dougernaut, as I like to call him, and Mark Barron on the back end and a guy I think has such a huge future, Lavonte David. You hit it hard with all three of those guys. Job well done.
Dominik: That was a great draft class for us, Coach Schiano's first class. And it was a lot of fun because we moved around a lot. As you guys know we moved back to take Mark Barron, moved up to take Doug Martin, moved up to take Lavonte David so we were kind of fluid and you have to love that. That's the fun thing of the draft, massage it to get the players that you want. All three of those guys make a really good impact. Barron I thought played well at the end of the season. He kind of lost it in the middle of the season in terms of having a big impact. He made plays and had production but even in the last game of the season he deflects a ball from Tony Gonzales and it helped us beat the Atlanta Falcons with his play. I was excited for how he finished the season. It was a long year for all of those players. They go through all the training and the combine. Doug obviously speaks for himself. To be a rookie and to make the Pro Bowl, that is exciting. Lavonte, you know, was one of the most productive rookies and most productive players in the NFL from a defensive standpoint.
Kirwan: Talk about Josh [Freeman] with me for a moment. There are those games that are bad and there are a lot more games that are good. We are in the world of securing the best players that we have. Talk about Josh, his status with you guys and maybe a sketch of the plan you have for the future with him.
Dominik: Yeah, I think Josh knows we like him a lot. We are really excited for him. For that six-week period you are talking about we were the best in the league in scoring points and getting yards and we were hot. Josh can do that. At the same point, we all want to play better and he had some games where they were not up to his level of standard and we look at it no different – we'd like to look at it the same way as the Baltimore Ravens did. It worked out well for them in every way. I am sure they had no problem in writing a check coming off a Super Bowl championship so, Josh is a guy we think long-term with but right now we are just going to take our time and let him play and if that costs the organization more money, good, that's great.
Kirwan: That's how [Ravens owner] Steve Bisciotti described it last summer to us. I was standing on a stage with him as they won the Super Bowl and I said to him, "You know what this means?" and he goes, "And I am glad to pay."
Dominik: Amen.
Ryan: It is consistency with him. I did a bunch of your games and what I always think about is the fourth quarter how it ended at the Carolina Panthers and what he did on that football field.
Dominik: Those were remarkable drives and great throws, precision throws with arm strength. That's why we have so much faith in Josh and so much excitement for him. He's only 24 years-old and he is on his way and he has a lot of experience built up, and we just want to see some consistency from him like everybody else does.
Ryan: Two guys I want to ask you about: I want to ask about the rehabilitation of Adrian Clayborn, who I think is big for your team and then the big one fella Carl Nicks at offensive guard.
Dominik: Good reports on them. Our players who didn't finish the season with us are coming back strong. The only one who isn't is Quincy Black, unfortunately, who sustained an injured arm in terms of nerve damage. Adrian Clayborn looks great and his ahead of schedule. Davin Joseph is ahead of schedule Carl Nicks with his toe is in great shape so those are three massive players for us. We are excited about what Da'Quan Bowers is going to do. There are a lot of guys who we didn't get to fully utilize last year and that's why we are excited, specifically Davin Joseph and Carl Nicks getting back on the team.
Ryan: Good players, good quarterback and cap space and draft picks. Love it. Mark, we loved having you here.
Kirwan: Awesome.