"It Still Goes Back To 5"
March 18th, 2013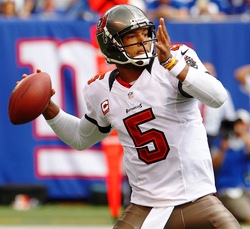 You may have heard Joe yesterday on WHFS-FM 98.7 talk about the Bucs and the favorite subject of seemingly all Bucs fans, Jets cornerback Darrelle Revis.
The issue of what ransom Bucs rock star general manager Mark Dominik must cough up in order to land Revis is concerning.
Joe is against giving up a first-round pick for two reasons: There's not a doctor on the face of this earth that can tell Joe if Revis, after an ACL surgery, can run, cut, jump, stop on a dime and start, and explode the way he used to — repeatedly through a season.  Any doctor who can predict otherwise is, in reality, a witch doctor.
Second, Joe does not believe the Bucs are one all-star cornerback away from a Super Bowl. Shoot, we're talking about a team with a losing record that just lost three of its starting front-seven. Have they even been replaced yet?
This is the issue Tampa Tribune columnist Martin Fennelly shares. He believes, as always, it all goes back to No. 5, and even Fennelly is confused by that position.
Is this a Super Bowl quarterback — even a playoff quarterback? It's a question with an answer that changes with Freeman's ups and downs. We've seen him dress up as Michael Jackson. Cool. Great. Now, can he pretend to be Joe Flacco? I'm not so sure.
This is a bulls-eye by Fennelly. If the Bucs had a top-tier quarterback, with the weapons Freeman has, heck, Joe would probably pull the trigger on a first-round pick for (a healthy) Revis.
But Joe would sure like to see the Bucs in the playoffs first before tossing out first-round draft picks for guys coming off of ACL surgery who have a habit of holding out and squeezing a front office for more cash.