Is Schiano Now Driving The Bus?
March 15th, 2013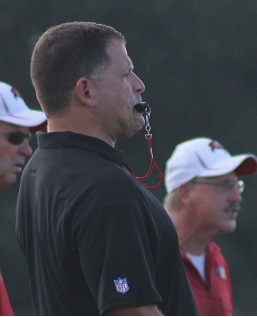 Joe has studied the moves of rockstar general manager Mark Dominik for years, and Joe must say that allowing Michael Bennett to walk away to Seattle for relative peanuts doesn't smell like the call of the GM.
1) Dominik has said repeatedly over the years that his priorities, outside of a franchise quarterback, are protecting the passer and rushing the opposing passer.
2) Dominik also has spoken of the value of a deep defensive line roster in the Tampa heat.
3) Dominik has referenced a core belief that claims the Bucs will re-sign and reward their home-developed talent.
4) Bennett was a Dominik signing in 2009. A hand-picked steal off the scrap heap.
5) Dominik has been around the NFL long enough to know productive, versatile, young defensive ends don't grow on trees.
It's all speculation on Joe's part, but Joe thinks the Bennett loss/debacle wreaks of Greg Schiano's foot coming down in the bowels of One Buc Palace.
Schiano and Butch Davis and the defensive staff have a right to evaluate and assess players however they wish. Their livelihoods lie in their roster, and they should have a big say in who's on it. Joe doesn't quibble with that. That written, Joe doesn't like the move and Dominik's history suggests he wasn't in favor of it, either.
Bennett was successful in Schiano's system, not on another team — right here in the New Schiano Order defense. That's gotten lost in a lot of the reporting, and it's one reason Joe doesn't think Dominik is behind the Bennett move.
Bennett did what they asked him to do. He stuffed the run like a beast and finished at the top of the league in tackles for loss. He recorded nine sacks, despite heinous cornerbacks behind him. And he rushed inside quite a bit later in the season on passing downs, as DaQuan Bowers got more playing time.
Joe can't imagine a GM, let alone Dominik, letting Bennett walk given the state of the Bucs' defensive ends.