Is Demar Dotson Really The Bucs' Starting RT?
March 29th, 2013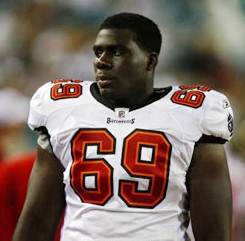 Many Bucs fans, Joe included, thought perhaps the Bucs would dabble in free agency, or maybe in the middle rounds of next month's draft, to grab a right tackle to either replace or push incumbent Demar Dotson.
The former basketball player became the Bucs starter early last season when then starter Jeremy Trueblood was benched. Dotson played OK but nothing that would make people forget Jonathan Ogden.
Bucs rock star general manager Mark Dominik signed Dotson to an extension, which could lock him up as a starter, but Steve White isn't a believer. The former Bucs defensive end looked behind the numbers and is not convinced Dotson will start for the Bucs.
@sgw94: Finally saw the terms of Dotson's extension. Uhmmm unless he definitely goes back to being a back up he got robbed! … I honestly don't know why he would sign that deal unless they threatened to release him. … Great backup money but cheap starter $.
Well now, that explains a lot. Look, Joe doesn't believe just because Dominik has a lot of cash under the cap to spend he should go drunken sailor just for the hell of it. He still has to answer to Team Glazer how he spends their cash.
So if Dotson truly is being paid backup money, perhaps Dominik is still sniffing for another right tackle, as Joe referenced this morning?