Freeman Has Good Company In Horrible Stat
March 29th, 2013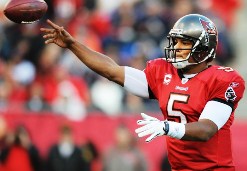 The TV watchers have gathered at ProFootballFocus.com headquarters in jolly old England to determine which quarterback in the NFL is the worst when pressured.
Even Bucs fans walking around with a white cane could tell that all too often, especially in important games, Bucs quarterback Josh Freeman wilted way too often under pressure. And, yes, the numbers-crunchers have confirmed what Bucs fans already knew. But if there is any consolation, Freeman is in the same boat as a future Hall of Famer with three rings.
Yes, that would be Tom Brady.
Freeman has a completion percentage under pressure of 41.9 percent, which is just a hair over Brady's 40.4 percent under pressure.
The difference is turnovers. Brady has but two interceptions while under pressure. Freeman leads this list by tossing a ghastly nine interceptions while feeling the heat.
To his credit, Freeman is tied with Andrew Luck on the list for touchdowns thrown under pressure, seven.
Joe has a hunch if Freeman can tune down the picks while defenders are in his face, it could translate into three additional wins.
That's a lot.