Eric Wright Not Gone Yet
March 18th, 2013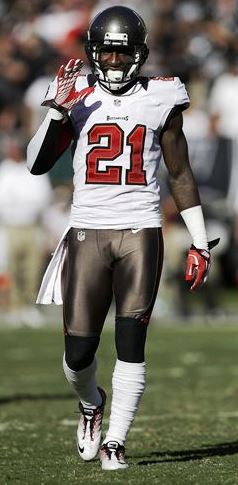 Though the fervor for Eric Wright's head has calmed down in recent days upon learning Wright lost his grievance against the Bucs for a contract clause stating Bucs rock star general manager Mark Dominik could cut him for popping Adderall, an NFL banned substance, Bucs fans still pine for Wright to be jettisoned.
Prior to that news, Joe was inundated with queries daily about when the Bucs were going to cut him.
In short, not yet, so Rick Stroud of the Tampa Bay Times Twitters.
@NFLSTROUD: Dominik said it's not a certainty that CB Eric Wright won't remain with the team, but he would have to restructure his contract. … Dominik said the team hasn't made a decision about whether to offer Wright a new deal but will address it after the owner's meetings.
What does this tell Joe? With news that Brent Grimes and the Browns are making headway on a contract, Dominik doesn't want to get completely shut out on cornerbacks and will consider keeping Wright, for a much-reduced price.
So, in a twist of events, your big free agent cornerback signing may actually be Wright.