Dominik "Listening" To Offers For Blount
March 18th, 2013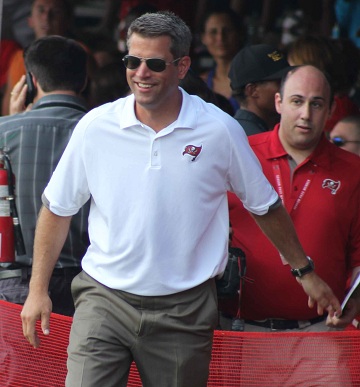 Not much new here, but it is a fresh nuance to the LeGarrette Blount trade possibility.
Speaking at the NFL Owners meetings in Arizona this evening, rockstar general manager Mark Dominik implied that while he's exploring trading Blount, he's aware that a solid No. 2 is necessary. Per the Twittering of Tampa Bay Times beat writer Rick Stroud, it seems the Bucs believe Blount could be their No. 2 and he won't be dealt for a ham sandwich.
@NFLStroud

– "Right now we're just listening with the understanding that Doug Martin can't do everything," Dominik said.
Joe can't blame the Bucs for seeking to trade Blount, who becomes a free agent after next season. If the Bucs aren't going to use Blount much, they might as well see if someone will part with a middle-round pick.
Perhaps the Bucs are sniffing a running back they like in a middle round, but don't love enough to use one of their current picks on him.