Bucs Making A Play For David Carr?
March 1st, 2013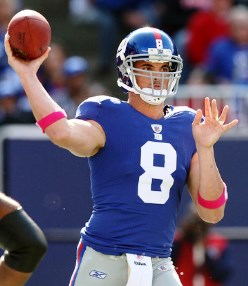 No, Joe isn't trying to go all New York Giants on people today, but a Twitter offering this afternoon from a well-plugged in NFL insider suggests the Bucs may be eyeing a certain quarterback to offer competition/non-competition for Josh Freeman.
That could be Giants backup quarterback David Carr, so says USA Today's Mike Garafolo.
@MikeGarafolo: A free agency note: NYG QB David Carr expected to hit the free agent market. TB + Mike Sullivan were interested last year, should be again.
Well, Joe has always thought David Carr was a decent quarterback. He started his NFL career OK with the Houston Texans but simply became shell-shocked from the porous offensive line he worked behind. Carr was pummeled so much it damned near killed his career and is still probably a bit gun-shy as a result.
Joe wasn't aware the Bucs made a play for Carr last year. Interesting.
Shoot, the Bucs could do worse for a backup quarterback. You know, someone like Dan Orlovsky.